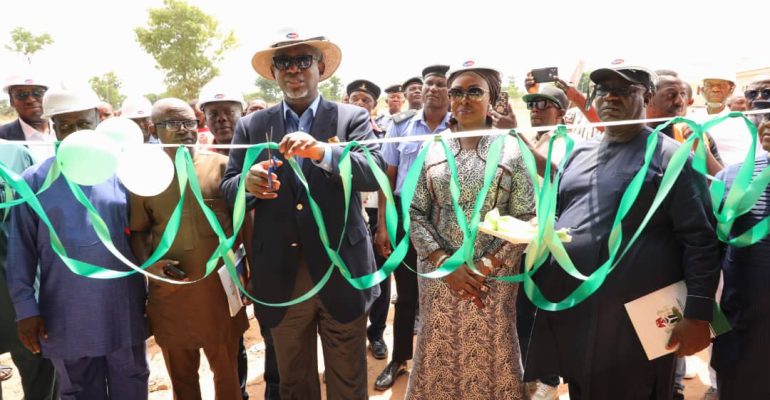 It has been revealed that the Federal Government will ensure the development of downstream Barite Mining industries through the Establishment of the Barite Processing Plant in Ugaga Community of Yala LGA, Cross River State where the natural resource is found in vast quantities.
The Honourable Minister of Mines and Steel Development, Arc. Olamilekan Adegbite disclosed this on Thursday 11th May,2023 during the Commissioning of the Barite Plant in Ugaga Cross River State.
He pointed out that the choice of Ugaga, as a location for the Barite processing plant is informed by its possession of rich deposits of Barite among the South-South States, and its closeness to Port Harcourt, Rivers State where the processed Barites are required for oil exploration in line with the Local Content and Value addition policy in Nigeria.
According to Arc. Adegbite, the South-South geopolitical zone is known to host rich deposits of Barite and with the location of the Barite Processing Plant in Ugaga, Artisanal and Small-scale Barite miners within the zone can easily have access to the plant for their Barite processing activities before further transportation and sales.
While noting that the plant will contribute to the development of Downstream Barite Mining industries in Nigeria, Arc. Adegbite also said that the plant will provide increased level of competitive inputs and employment generation in all businesses relating to Barite Mining clusters.
He further remarked that Barite processing plant will increase the rate and exports of Value-added products and services; attract foreign and local investments; generate new start-up companies and increase trade performances.
The Minister revealed that the Barite Plant will create higher corporate profits, improved mineral production, ease of mining sector regulations and many more cluster activities.
Also speaking, the Permanent Secretary, Federal Ministry of Mines and Steel Development Dr. Oluwatoyin Akinlade in her welcome address expressed optimism that the commissioning of the Barite Processing Plant will trigger capacity development, wealth creation and prosperity in the Minerals and Metals Sector in Ugaga, the entire South-South Zone and the Country at large.
Present at the Commissioning were Traditional Rulers, Directors and staff of the Ministry and Stakeholders in the Mining Sector.
Mining equipment were distributed to Members of the Mining Cooperatives present during the occasion.